---
Disclaimer: Opinions expressed in this article do not constitute investment advice from Bitcoin Reserve.
---
The notion of going cashless has been around for decades. For some, it's an idyll where financial inclusion is granted to all, and criminality is curbed. For others, it conjures visions of a dystopian future in which governments and central banks can monitor every transaction. But for almost everyone, a cashless society is an inevitability.
Feelings towards cash have morphed dramatically over the last few years. But it's the onset of the coronavirus that truly changed attitudes toward physical fiat.
In 2017, a survey from multinational banking group ING found that 38% of Americans and 34% of Europeans would choose to go completely cashless if given the option.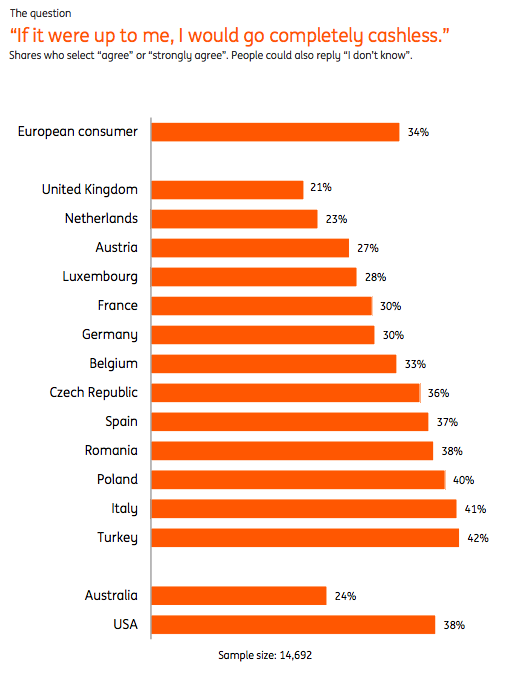 Fast forward to 2020, and another survey, this time from global payments company Rapyd, observed that 54% of Americans are fearful of touching physical fiat due to the coronavirus. As such, 45% of respondents supported the removal of pennies from the money supply, with 32% opting for the elimination of cash altogether. Consequently, almost two-thirds of respondents plan to use contactless going forward.
Along with fears of contracting the virus, attitudes toward digitized payments seemingly switched in line with a significant coin shortage in the US. It started with the US Mint halting production of smaller denominations to protect its workers. Simultaneously coin circulation floundered as people stopped spending. Those who did, opted instead for contactless alternatives — resulting in an all-out coin deficit.
Put it all together, and a cashless future appears to be progressing faster than anticipated. And the shift is happening just as central bank digital currencies, or CBDCs, are beginning to take form.
CBDCs: The Future of Cash?
Impelled by private initiatives such as Libra, an estimated 80% of the world's central banks are now scrambling to research and formulate CBDCs according to the Bank of International Settlements (BIS). From Europe's supranational iteration, aptly dubbed the digital Euro, to China's digital currency electronic payment, or DCEP, bank currencies are destined to become the payment norm in the coming years.
DCEP is perhaps the most actualized version of a CBDC to date. Over the past few months, the digital yuan, and its accompanying wallet, has gone through various trials and pilot schemes in the cities of Shenzhen, Suzhou, Chengdu, and Xiong'an within both retail franchises, such as McDonald's and Starbucks as well as within the commercial platforms of big businesses including ridesharing giant, DiDi.
With its beta phase swiftly coming to an end, DECP's official launch draws closer — in turn, spurring competing efforts from the west.
Uncharacteristically, despite being faced with de-dollarization, the US is still only just investigating digital currency. Speaking via webcast during last week, Lael Brainard, board member for the federal reserve Bank of San Francisco, revealed a collaboration between the Federal Reserve Bank of Boston and the Massachusetts Institute of Technology to test a "hypothetical digital currency" adapted for central bank uses.
The impetus for the digital dollar comes in the wake of the coronavirus crisis. Brainard noted that the pandemic served as a reminder of the importance of instilling a resilient and trusted payments infrastructure, accessible to all.
Bank-Backed Currencies vs. Bitcoin
It isn't just COVID galvanizing a shift toward digital currency. For many, the inherent advantages afforded by digital currency are a logical step forward.
Akin to its private sector counterparts, CBDCs will enable faster, more efficient transfers between borders, institutions, and people for a fraction of the cost and effort of traditional fiat. A constant paper trail also means money laundering and tax evasion are subdued. And perhaps most importantly, CBDCs could afford a secure and liquid means of payment for those without access to financial services.
The World Bank estimates that around 1.7 Billion people remain unbanked globally. While CBDCs alone may not solve the issue, the new system built to encompass CBDCs could foster inclusion by allowing the new instruments to operate outside of the typical banking infrastructure.
For some, however, the transition to digital fiat isn't radical enough.
Another byproduct of the coronavirus crisis, besides the changing attitudes toward physical money, is the realization that fiat currency — so long as it can be created at will and controlled by whimsical policy — is prone to devaluation, no matter its form. This rising awareness, in the face of global quantitative easing and other such inflationary actions, is driving a move toward an alternative: bitcoin.
As highlighted in our last piece, MicroStrategy, one of the largest publicly-traded business intelligence companies in the world, is among the first to make the transition. The NASDAQ listed firm opted to allocate $250 million of its inflation-hedging funds into bitcoin, in a bid to outmaneuver macro risk arising from the global economic response to the coronavirus. Where CBDCs would still abide by the monetary and fiscal policy impulses of central banks, bitcoin's fixed supply remains untouchable. And for many, that makes for a much more attractive place to store value.
In any case, as society veers headlong into the digitization of the financial system, there's some solace in knowing that while many of the pitfalls of physical currency will likely still remain, the intrinsic benefits of bitcoin and other digital currencies will, at least somewhat, rub off.
Join us next week where we'll delve into the disadvantages of a cashless society.