---
Disclaimer: Opinions expressed in this article do not constitute investment advice from Bitcoin Reserve.
---
Institutional involvement in bitcoin has been a relatively slow burn over the years. Nevertheless, research suggests that engagement is rapidly developing—and Covid-19 may be fanning the flames. Here's how institutional involvement in the Bitcoin markets has morphed in recent times, and why.
For better or worse, institutional investors have always served as a veritable acid test for worthy investments—endowing them with legitimacy thanks primarily to the substantial resources at their disposal.
These actors, inclusive of family offices, hedge funds, and high-net-worth individuals (HNWI), are often viewed as the "smart money" and, therefore, act as a beacon for what the rest of us should be investing in. This theory seems to hold up. For one, institutional investors are more likely to make headline news. As a result of being lauded in the spotlight, they instill confidence in any asset they subsidize, because not only are they staking their money on it, but their reputation too. And, perhaps most importantly of all, they render liquidity—boosting the overall growth in a sector.
At least that's the idea. This notion certainly holds weight in the bitcoin community, where propagators sit idling patiently for signs of institutional life. For the most part, it's been a long wait.
Bitcoin: An Institutional Investment Class
It wasn't until 2017 that bitcoin was deemed deserving of institutional recognition.  Within a seminal report by the multinational investment bank, JPMorgan, entitled "Bitcoin Decrypted: A Brief Teach-In and Implications," the asset was hailed as a "new institutional investment class."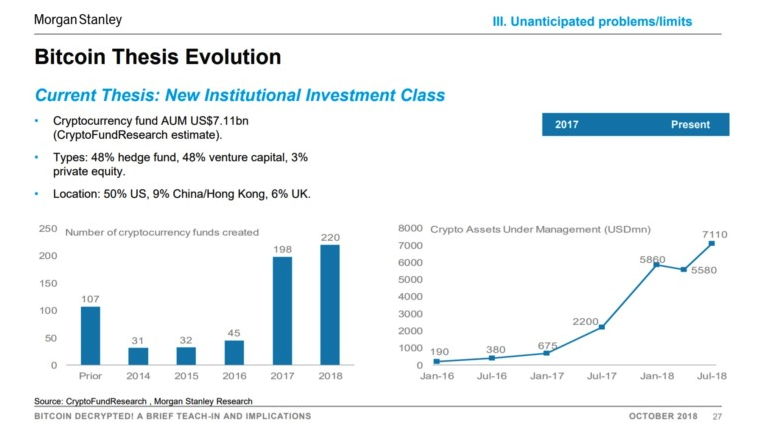 In fact, according to the research, this is a trait that bitcoin had garnered as early as 2017.
Supporting their thesis, the researchers cited infrastructural developments such as Fidelity's foray into the sector with its bitcoin and blockchain incubator as well as several regulatory nods of approval. Nevertheless, they still perceived bottlenecks, including the absence of custodial solutions, and—somewhat ironically—the sector's lack of financial institutions.
Fast-forward to 2019, and many of these bottlenecks had been unclogged. Fidelity had expanded to fill the market's custodial gap and even started facilitating bitcoin trading for its institutional clients. Another primary study into institutional engagement was carried out by Fidelity itself. A survey consisting of hundreds of US institutional investors, including pensions, family offices, hedge funds, endowments, and foundations, found that around 22% had some exposure to cryptocurrencies such as Bitcoin and a further 40% leaning toward investment in the future.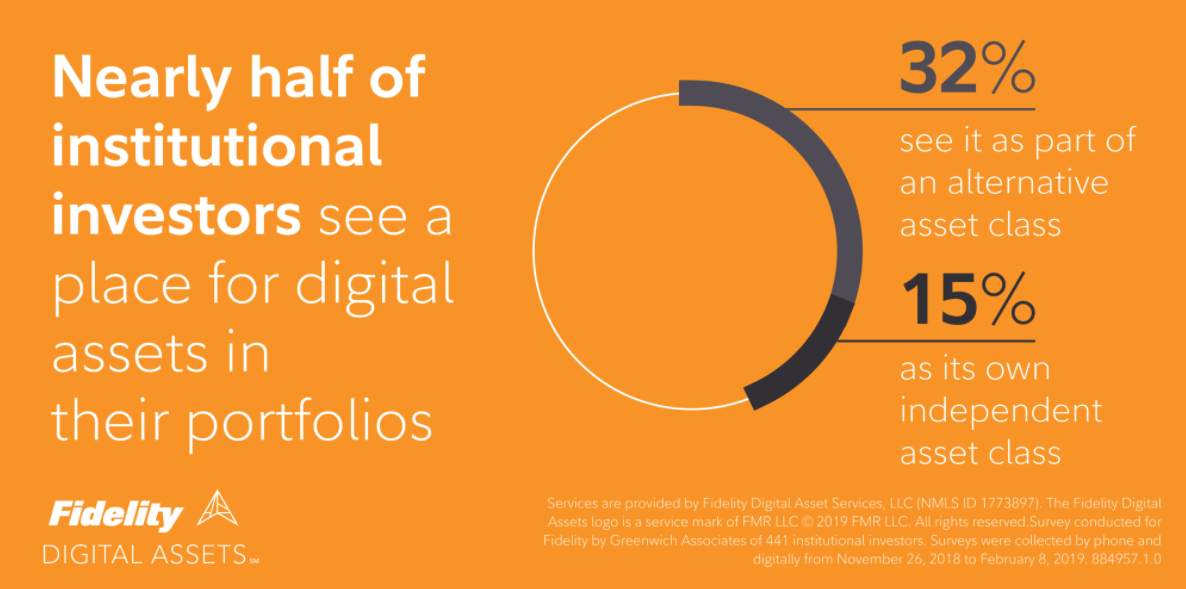 Indeed, the commitment to buying the future seemed to hold true. A subsequent survey released by Fidelity this year registered a notable increase in institutional engagement. Within the survey, a significant 36% of respondents (24% in the US and 45% in Europe) cited exposure to assets such as bitcoin. Perhaps more encouraging was the fact that 60% of all respondents had developed a positive attitude toward the asset.
As for why, roughly 80% of respondents remarked that one of the most appealing aspects of bitcoin was the lack of correlation to traditional assets, as well as its high potential upside.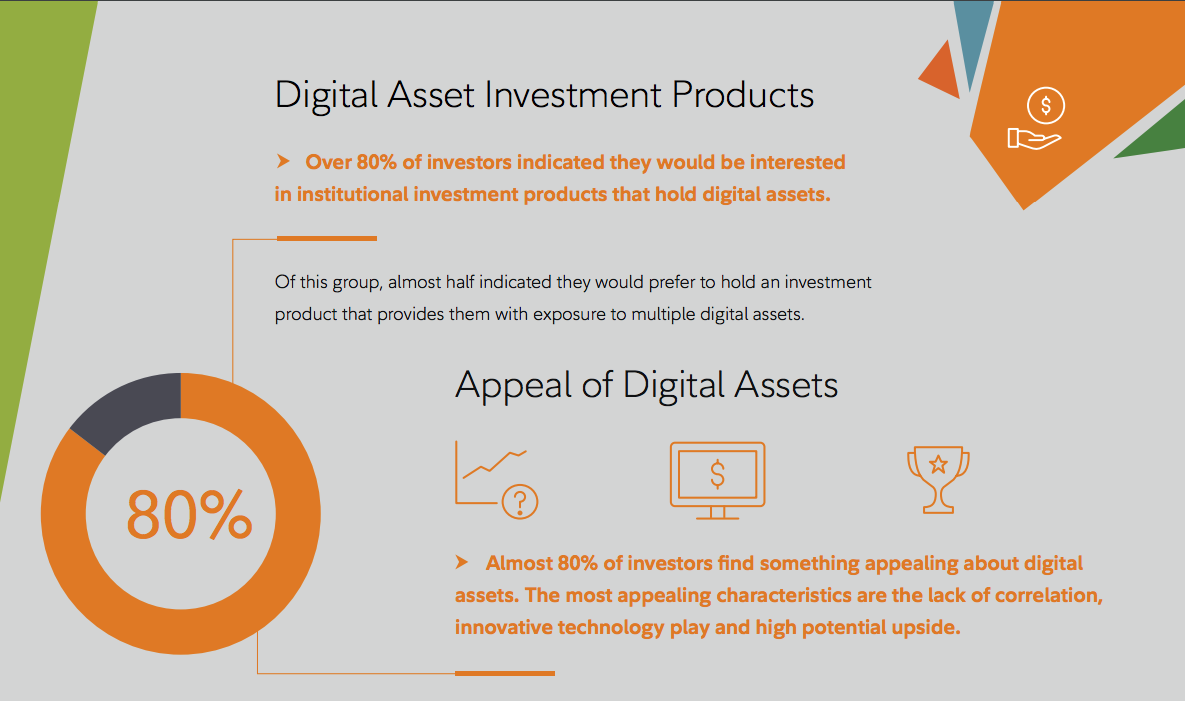 A Simple Hedge or the Next Global Reserve Currency?
It's not all too surprising that these characteristics should be the driving force behind the institutional adoption of bitcoin. For decades, since the last financial crash and beyond, investors have been seeking an asymmetric asset that could hedge against macro risk while still providing the maximum upside. For many, that asset is bitcoin—and it's now proving its worth.
As the Covid-19 pandemic continues to ravage the broader markets, and fears of a second peak set in, assets like gold and bitcoin have been tipped as the safe havens of choice. After all, bitcoin was birthed from the ashes of the last recession, why shouldn't it come to age in one?
Within Bloomberg's 2020 Commodity Report, analysts lauded both the precious metal and the digital gold as impervious to global systemic collapse and inflation.
The report states:
"Among the few assets up in this tumultuous year, gold and Bitcoin are building foundations for further price appreciation, in our view. The metal and the crypto remain our top candidates to advance in 2020, with added rally fuel from Covid-19."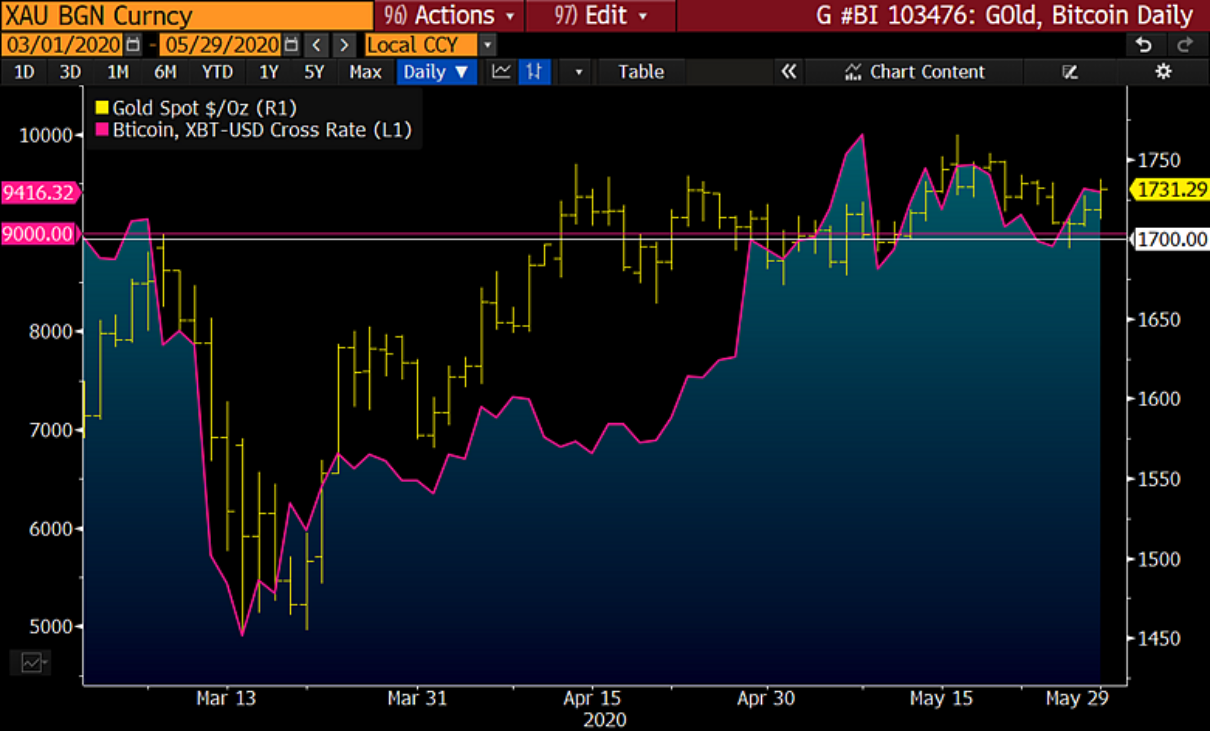 However, beyond a pure hedge against inflation, stagflation, and systemic risk, it's bitcoin's combined characteristics that many suggest positions it for greater things. In our last research piece, we explored some of the rationalizations for bitcoin becoming the next reserve global currency.
Within the article, we delved into the potential of a global currency reset, with bitcoin supplanting the US dollar—the world's prevailing de facto reserve currency. Not only did we discover how the purchasing power of the Greenback has fallen since the uncoupling from a gold standard, but also how instances of banking crises have increased since the Bretton Woods agreement. The piece also scrutinized Bitcoin's suitability, eventually finding that it may be an even more fitting candidate than gold itself.
Ultimately, the world may be better off with bitcoin at the helm of the financial system. Ironically one of the only ways we'll get there is by getting entrenched financial institutions on board first.